Download your FREE 100 Page Guide Here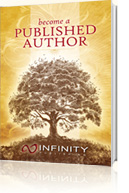 Our industry-leading, author-originated book publishing method puts authors in control of the publishing process. Carry out your unique vision for your book.
The publishing process can be confusing for many authors. To help, we've developed a


FREE 100 Page Self-Publishing Guide

with
5 keys topics every author should know:
Three types of content to consider and pitfalls to avoid
The submission process

—

what to expect and how to proceed
An overview of the print, digital and audio publishing process
Publicity and promotion choices to consider
The experiences of other authors who have worked with Infinity Publishing
Request your FREE 100 page Self-Publishing Guide today by completing the form on the right. We'll email you the book for immediate download.
Use our Request Form to receive a printed copy of our free Self-Publishing Guide by mail. .
Set up an appointment for a free call with an Author Advocate to discuss your book and publishing needs: